Vermont Arts News | Vermont Arts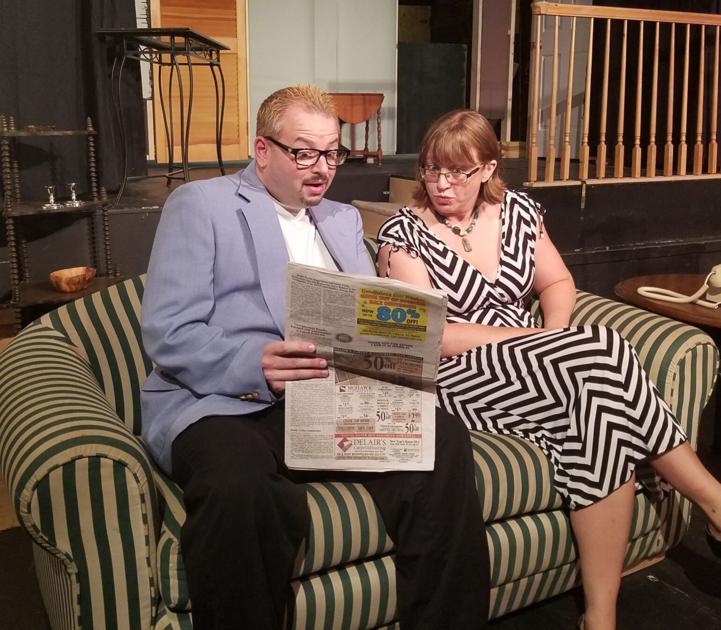 WAITSFIELD – The Valley Players will present the classic slapstick comedy "Noises Off" – "A Play in a Room, a Prank within a Prank" by Michael Frayne, from September 24 to October 24. 10 at the Valley Players Theater, 4254 Main Street. Performances take place at 7:30 p.m. on Fridays and Saturdays, and at 2 p.m. on Sundays.
In the play, the cast is a touring company rehearsing for a British farce called "Nothing On," which is set to begin after just two weeks of rehearsal. The show involves many slamming doors and plates of sardines as well as romantic relationships on and off stage. Act I ends when the actors have finished rehearsing Act I of "Nothing On"; Act II takes place four weeks later and relationships begin to change and wear out, but as seen from behind the scenes. Act III takes place four weeks later, with Act I of "Nothing On" reviewed from the public perspective. The show is directed by Joanne Puente.
The Valley Players ask all members of the public to wear masks / face covers inside the theater during production, regardless of their immunization status.
Imani Winds / Catalyst Quartet
MIDDLEBURY – The Middlebury Performing Arts Series opens the fall 2021 season with a long-awaited concert by two dynamic chamber ensembles. Imani Winds and the Catalyst Quartet join forces for a special program called "(im) migration: music of change", featuring a new work commissioned by principal American composer Jessie Montgomery.
Imani Winds and the Catalyst Quartet will perform at 7:30 p.m. on Friday, September 24 at Robison Hall at the Mahaney Arts Center (MAC). This concert is the first live, in-person event in the Middlebury Performing Arts Series since March 2020, when the pandemic first struck. Please note MAC's health and safety protocols, including mandatory vaccinations (or valid medical or religious exemptions) and masks.
Highlight of the evening is the Vermont premiere of Montgomery's new nine-piece work, "Sergeant McCauley," which brings together spiritual and working songs that reflect his great-grandfather's journey on the Great Migration, from Mississippi across the West, north to the Dakotas, and finally back to Georgia. The program also includes the Imani Winds playing an arrangement of "Afro Blue" by Mongo Santamaría; the Catalyst Quartet playing Florence B. Price's "Negro Folksongs in Counterpoint"; and the two sets united in the Concierto de Cámara by Roberto Sierra.
Free entry; no tickets are required for the in-person concert. The event will also be broadcast live and for 48 hours after the show; registration required.
Call (802) 443-MIDD (6433) or go online at www.middlebury.edu/arts for more information. The MAC is located at 72 Porter Field Road.
CALAIS – 'Words Out Loud' marks the seventh year of Sunday afternoon readings by Vermont writers at the historic 1823, Old West Church, presented in tandem with the Fall Art at the Kent exhibit in Kents' Corner. Unplug and listen to these six captivating word makers share what they forged and written – words forged in fiction, memoir, poetry and more:
– September 19: Mary Ruefle and Kathryn Davis;
– September 26: Benjamin Aleshire and Martin Philip;
– October 3: Megan Buchanan and Toussaint St. Negritude.
Book sales, dedications and a meeting with the authors will follow the readings. Masks compulsory inside. Suggested donations. No ticket required for readings.
Go online at www.kentscorner.org for more information. Visitors wishing to enter '20/20 Hindsight' must book free tickets.
PUTNEY – Twilight Music concludes its 18th Twilight on The Tavern Lawn series of folk, world beat, zydeco, Celtic, jazz, rock and bluegrass summer concerts at 5 p.m. on Sunday, September 19 with the zydeco Planet Zydeco sextet. Co-presented with Next Stage Arts Project, the concert takes place on the lawn of Putney Tavern (bring a lawn chair or blanket) or at Next Stage at 15 Kimball Hill in case of rain.
Planet Zydeco captures the essence of traditional accordion-based rural-style dance music as performed today in clubs and dance halls in southwest Louisiana. The group performs a popular mix of rhythmic songs, as well as slower numbers inspired by blues and traditional waltzes, to enthusiastic audiences throughout the Northeast.
Entrance is free to the public (donations are welcome) and food will be available. Call 802-387-5772 or go online at www.twilightmusic.org for more information.
MIDDLEBURY – Hear Middlebury singer, author and celebrity Francois Clemmons read his first paperback memoir "Officer Clemmons," at 7 p.m. Wednesday, September 22 at Robison Hall at the Mahaney Arts Center.
Clemmons will offer remarks, readings and songs, followed by a signing session in the lobby. Known worldwide for his role in "Mister Rogers' Neighborhood", Clemmons has long been known locally as the Alexander Twilight Artist in Residence and director of the Martin Luther King Spiritual Choir at Middlebury College, where he served from 1997 until his retired in 2015. He is also a Grammy Award-winning actor, activist and singer.
A portion of the proceeds from the Vermont Bookstore from this event will benefit WomenSafe, a Middlebury-based nonprofit that works to end physical, sexual and emotional violence through direct service, education and to social change.
The event is free; masks and vaccinations (or valid medical or religious exemptions) are mandatory. Call (802) 443-MIDD (6433) or go online at www.middlebury.edu/arts for more information.
RANDOLPH – The Chandler Center for the Arts will host the Catapult Entertainment Dance Company for a two-week artist residency. Public performances take place at 1:30 p.m. on Thursday, September 23 and at 7 p.m. on Friday, September 24.
The renowned dance troupe hypnotizes audiences by creating Chinese shadows with their entire bodies. The Catapult dancers will train for their planned tour across the United States. Their residency in Chandler will conclude with a one-of-a-kind interactive workshop for children, and two events, a matinee for local families, school groups and home students, and an evening performance for the general public.
Founded in 2008, Catapult Entertainment has received international acclaim for its live shadow dance performances in over 100 cities. Performing on The Conan O'Brien Show at America's Got Talent, Catapult Entertainment takes pride in fusing cutting edge technology with classical dance technique.