The man behind the curtain at the Sebastiani Theater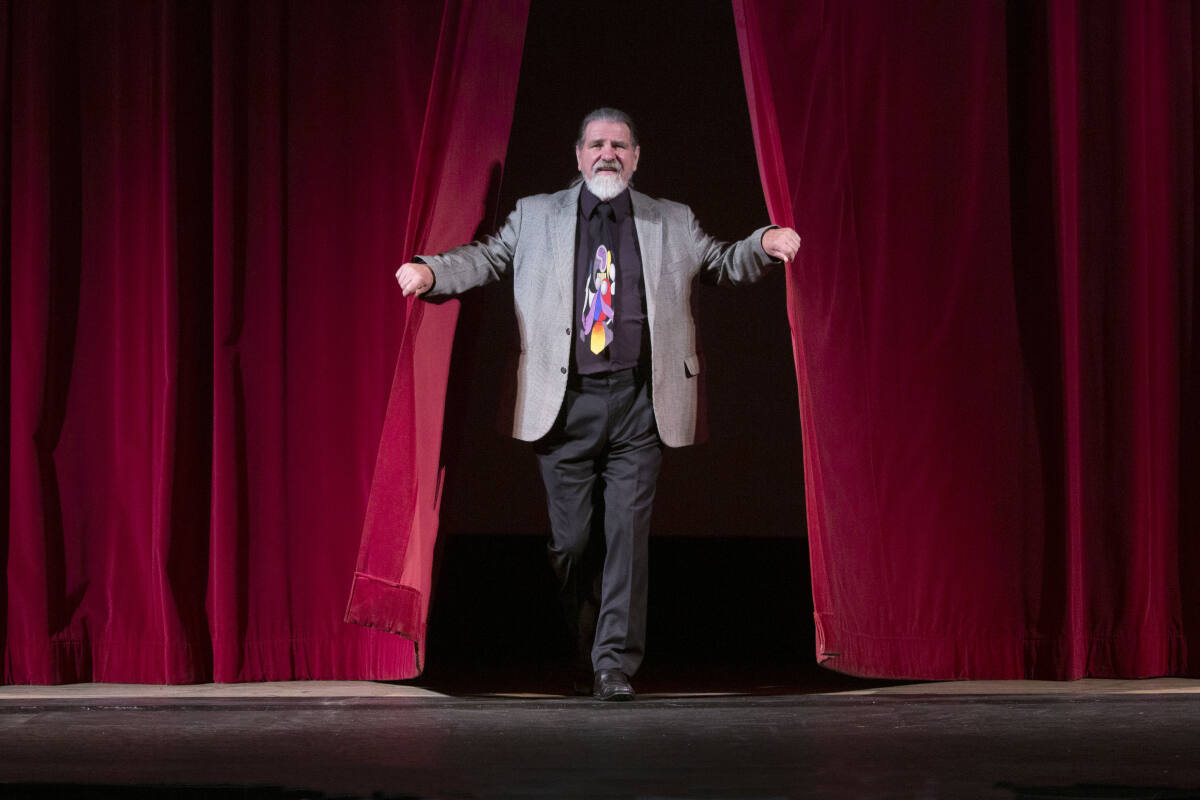 On September 17, the Sebastiani Theater Foundation will host a concert and "Roger Rhoten Roast & Toast" to honor Rhoten's 30 years running the beloved historic theatre. The celebration was originally scheduled for April, but Rhoten contracted COVID and was unable to attend. Now fully recovered, Rhoten is excited for the evening of festivities at his beloved theater.
Doors open at 6 p.m. for the 7 p.m. show featuring Dawn Angelosante and Tony Gibson and the Sean Carscadden Trio. The roast and toast will feature Roger's friends from all years at the Sebastiani. We spoke with Roger Rhoten and his wife Diana about all the hard work and magic they've witnessed in the beloved theater over the past 30 years.
"It took a long time," said Roger Rhoten. "It took so long to do everything that needed to be done, but that's okay because I love acting. I love it."
Roger Rhoten has helped the Sebastiani Theater become a place where young people find their passion for performance and where local artists have seen their dreams come true.
They have hosted children's programs, puppeteers and Christmas shows. They have hosted productions from the Sonoma Ballet Conservatory, San Francisco Mime Troupe, Reduced Shakespeare Company, Broadway Bound Kids, Sonoma City Opera and more.
They've also hosted local debuts like Napa-based Francis Coppola's "Tucker" and Sonoma's John Lassester's groundbreaking digital classic, "Toy Story." They have presented the Sonoma International Film Festival for 25 years.
They have provided a place where families can spend a fun evening watching movies unfold on the big screen. "I like a wide range of different types of movies, and I've tried to pick and bring the best movies to theaters for the community to enjoy," Roger said. "I think I have pretty good taste in movies, but you'd have to ask the public about that."
"The Sebastiani has been the home of 'Witchie Poo' since 1987 when (former Sebastiani manager) Flo McCann invited us to do the performances there," Diana said. "Thousands of young Sonomans danced, sang and performed 'Thriller' on this stage."
It hasn't all been easy. It took a massive amount of work to get everything working in a very old, albeit beautiful, building. The history of the theater is full of good intentions and plans gone wrong, leaving the building to deteriorate a bit over the years. Roger Rhoten stepped in over 30 years ago to help save theater with a non-profit organization and he's never walked away since.
The historic theater was built in 1932 with good bones and a solid foundation that could withstand an earthquake, but over the years it needed attention and improvements. In 1988 Roger Rhoten established the non-profit foundation Friends of Sebastiani Theater to help maintain and update the theatre.
Then in 1992, when the theater needed new management, the Sonoma City Council selected Roger as the theater's tenant manager. (The Sonoma City Council leases the theater to its Oakland-based ownership group and splits the cost with theater management, according to sebastianitheatre.com) Rhoten immediately invested $60,000 of its own money in a Dolby sound system and a modern projection equipment.
Diana Rhoten said it was definitely a labor of love because when Roger took over he knew nothing about running a movie theater other than helping former manager, Flo McCann. "With the help of Flo's brother, Danny, they were able to run the theater with old, run-down equipment, no air conditioning, not even an ice machine," she said.
It was really busy then. There were no multiplexes, so they did the first runs and showed them two or three times a night. "Fridays and Saturdays were extremely difficult because it was the only place in town where teenagers could go and it was difficult to satisfy all the customers," she said.
When a multiplex opened near Fiesta Plaza in 1994, it brought a different kind of challenge. "Roger had to change the whole approach and went mostly to independent films rather than first-runs," Diana said. "It was touch and was not financially viable. However, we live in Sonoma and this community is so supportive and with their help he has been able to make constant improvements to bring it to the standards we now love and expect.
Both Roger and Diana spoke of the incredible community support Sebastiani has gotten over the years. "Without them we wouldn't be here," Roger said. "There has been so much generosity and people have signed up for our Movie Lovers Club which has been so helpful especially during the pandemic. There is so much support and love for the theater.