Puppet show highlights refugee experience in America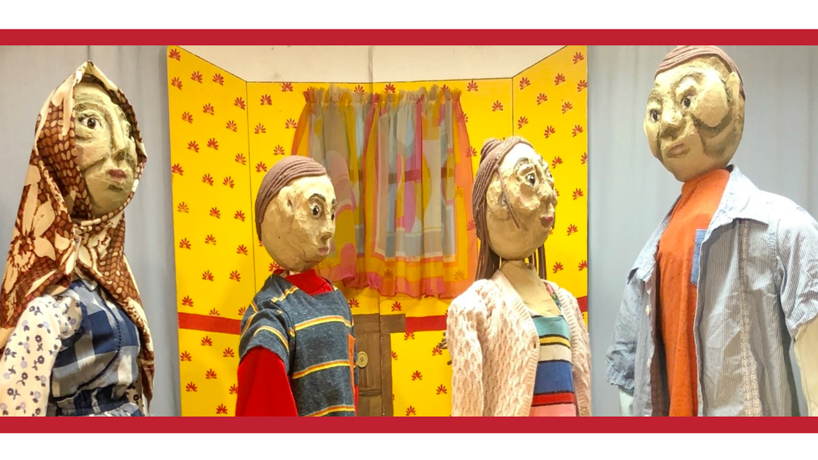 A pair from University of Missouri-St. Louis's faculty members have teamed up to use the power of theater to educate audiences about the experiences of refugees with the help of a $ 37,000 grant from the University of Missouri Research Council.
Uma Segal, Emeritus Professor of Conservative Social Work, is the principal investigator of the project with Felia Davenport, Associate Professor of Communication and media studies, the co-principal investigator.
When Davenport saw "Avenue Q», A musical featuring puppets, she had a realization. Audiences were much more receptive to new and stimulating ideas when they came from puppets rather than actors.
These are two of the catalysts behind the research project and the new puppet show "We Came as Refugees: An American Story. Davenport, also a professional costume designer who has received several awards for her designs, worked with Segal, a research team, and Daniel "Digger" Romano, master storyteller and puppeteer, who developed the piece.
"It really evolved from the idea that a lot of people have a lot of misconceptions about refugees and very little idea of ​​the difference between refugees and immigrants," Segal said.
The research team will also determine the coin's potential to serve as an educational tool about the challenges refugees face adjusting to life in the United States.
Two performances are scheduled live on Zoom, one on Thursday at 1 p.m. and an encore on Saturday at 7 p.m. They are both free but registration is required. Participants in virtual events will be asked to complete 5-minute surveys before and after the performances to assess what they have learned.
"If it proves to be effective between polls before and after polls, then we can use it as a model for education," Segal said.
It is a cooperative effort between UMSL School of Social Work, the UMSL College of Arts and Sciences, the Saint-Louis Storytelling Festival and the Extension of the University of Missouri. With the grant from the UMRB, Segal designed the study and hired and supervised research assistants Ramona Marshall, a master's degree in public policy from UMSL Department of Political Science, and Stacy Brown, an MSW student from the School of Social Work.
For a year, they conducted interviews with refugees from the Saint-Louis region from Afghanistan, Bosnia, the Democratic Republic of the Congo, Iraq and Syria. They also interviewed stakeholders who interacted with refugees on a daily basis, such as employers, doctors, social workers, ELL teachers and neighbors.
"It was definitely a very enriching experience," said Marshall. "There are some major recurring themes that we found. Even though the refugees come from different countries and backgrounds – some were in camps, others not – recurring stories emerged.
Marshall and Brown meticulously recorded and transcribed the interviews and passed the information on to Romano, who used these real-life experiences and the words from the interviews to write the script. Puppeteers Stanley Gulick and Michelle O'Donnell will perform the script under Romano's direction. Davenport designed the puppets and their costumes.
The story centers on a Syrian refugee family, but it includes details of everyone interviewed. It is a "master" story, not the story of an individual family, and it includes elements experienced by most refugees – regardless of their origins or experiences prior to entering the United States.
Davenport said the team felt responsible for telling as authentic a story as possible.
"We wanted to make sure we were accurate," she said. "So much so that a photo was taken and we asked them to redo the photo because they hadn't properly attached the hijab to my puppet, and I didn't mean to disrespect at all."
The team will have to wait until the polls are complete before determining the effect of the story on audiences, but they are hoping for a positive response.
Davenport said the contemporary refugee experience is often not addressed in K-12 education, and "We came as refugees" could be enlightening for those not exposed to this. information. Marshall nodded, noting that neighbors of the refugees she interviewed were mostly curious about the process of arriving in the United States.
"I think people just enjoy getting the actual information," Marshall said. "How much do refugees actually get when they come here? What other help do they get? Hope this can be a really important educational resource for people to get accurate information. Then they can get a feel for what they think about it, but it is very important to at least have accurate information. "
If it has the desired result, the piece could be a role model for others to follow. Segal said it could open the door for further research as well. She added that if polls show it has not been effective, the coin will be changed and the process will be repeated in the spring.
Regardless, the team was happy with the versatile format of the final product. Not only can the performance recordings be used in the future, but the puppets are accessible to younger students.
"I think it works better that way too, especially with us dealing with COVID," Davenport said. "The puppet idea, which worked more with COVID than with actors, and I thought that was an interesting way of trying to get people to accept what was being said. "
Segal also stressed the importance of the project's interdisciplinary partnership.
"We really reached out to all departments, all segments of the university, as well as within the St. Louis community," she said. "It's more than just entertainment. It is also a community engagement project, in line with UMSL's mission, and which brings together a diverse group of disciplines to create a product that can be used later.
Those interested can register for the Thursday performance at https://extension.missouri.edu/events/-we-came-as-refugees-an-american-story-puppet-show-1602710720 and the Saturday performance at https://extension.missouri.edu/events/-we-came-as-refugees-an-american-story-puppet-show.
The performances are accessible for 24 hours after the broadcast.
Media coverage
Saint-Louis public radio
Short url: https://blogs.umsl.edu/news/?p=87157