Music history students receive practical lessons in European music before 1800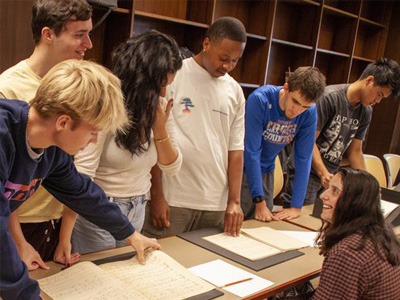 Students enrolled in the Pre-1800 European Music Class of the Department of Art and Music Histories in the College of Arts and Sciences (A&S) recently had the unique opportunity to visit the Syracuse University Libraries. Special Collections Research Center (SCRC) to learn more about its music-related collections.
During the session, students interacted with items from the SCRC archives dating back hundreds of years and discussed with curators how the SCRC can be a valuable resource in their research. Read more about their visit in the Cool Class profile below.
Course name: European music before 1800 (HOM/MHL 267)
Teacher: Amanda Eubanks Winklerprofessor and director of the department of art and music history
Description of the class: HOM/MHL 267 students learn about the cultural and philosophical contexts of European music before 1800. Students reflect on a series of questions: What did this music mean to people when it was originally composed? How does this music participate and reflect European culture? Why are we still studying this music? What might it reveal about the power structures of the past and present? Why were certain composers and types of music excluded from the "canon" (collection of influential composers and works)? This course helps students formulate answers to these questions through in-depth listening, focused readings, creative projects, and musical analysis.
Students who must register: HOM/MHL 267 includes students from across the University, although anyone taking the course must be able to read the music. A&S majors include music history and cultures, psychology, women's and gender studies, communication sciences and disorders, and biology. Majors in the College of Visual and Performing Arts include Sound Recording Technology, Performance, Music Industry, and Music Education.
What Students Learned at SCRC: The students became familiar with the collections related to music, in particular those of the Belfer Audio Archive, which includes more than 500,000 items ranging from early experimental tinfoil recordings to modern digital media. They also consulted and manipulated European music books and manuscripts from the medieval and early modern era.
The benefits of hands-on learning: The visit to the SCRC gave the students the opportunity to establish a tangible link with the material discussed in class. In a session led by SCRC curator Jana Rosinski, they were introduced to different types of sound recording media, including Edison cylinders, diamond discs and flexidiscs. Rosinski also pulled out a range of 19th and 20th century objects from their music collections to talk about the range of materials available to SCRC students.
In a second session, curator Daniel Sarmiento gave a presentation on SCRC services and discussed with students the difference between primary and secondary sources. Curator Irina Savinetskaya then spoke with the class about the research center's medieval and modern music collections. The students interacted with a very large, richly illuminated choir book (the Syracuse Gradual), which they had learned about in class. They also saw a range of printed musical material, dating from the early modern period. They discussed the different ways the books were used, such as how singers stood around the choir book to perform and how people wrote notes in the margins.