Kenny Garrett, a Grammy-winning musician, performs at the Temple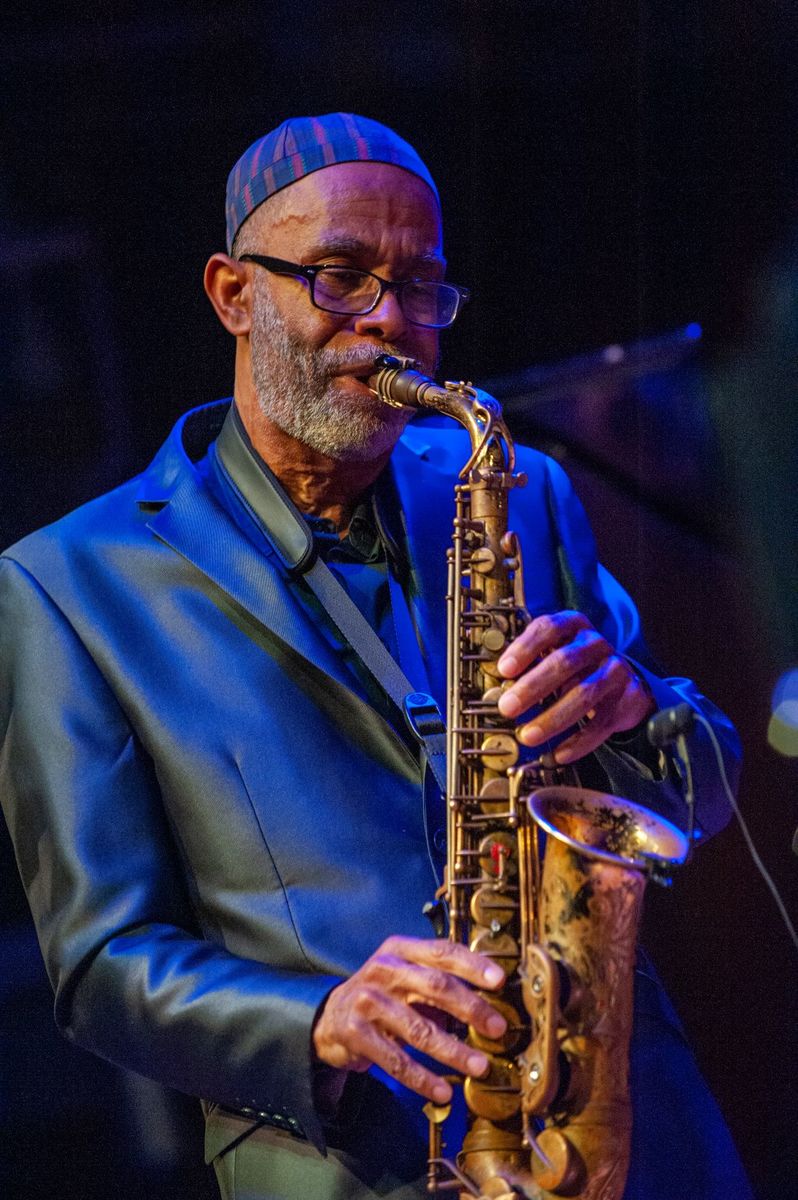 Earlier this month, WRTI and Temple University presented a free jazz concert at the Temple Performing Arts Center headlined by Grammy-winning saxophonist Kenny Garrett, who performed songs from his latest album, The sounds of the ancestors.
The concert opened with the Temple Jazz Faculty Sextet, made up of Boyer College of Music and Dance faculty members: Terell L. Stafford, Bruce Barth, Mike Boone, Justin Faulkner, Dick Oatts and Tim Warfield Jr.
Stafford is the director of jazz studies at Boyer and a trumpet player, who started playing at the age of 13. He was impressed with the exuberant energy and excitement that Garrett and his group brought to the event.
"I've been a huge Kenny Garrett fan from the very beginning. When we arrived for a soundcheck, the energy was just amazing. Everyone was so excited," Stafford said. "I'm still buzzing at because of that."
Nearly 800 people attended the event which brought the North Philadelphia community together for an evening at the Temple.
Vice President of Public Affairs Val Harrison said the concert was an amazing opportunity to bring together students, faculty, staff and residents of North Philadelphia in celebration of music.
"Temple remains committed to bringing the best of African American culture to the Philadelphia community," Harrison said. "Many people from nearby communities walked to the concert, so it was a tremendous display of community building and the possibilities that shared experiences can foster."
She added that the event was free in an effort to create a space where the greater Philadelphia community would feel welcome at Temple.
Grammy-winning artist Kenny Garrett burst onto the national scene in 1978. He has collaborated with Miles Davis, Art Blakey, The Jazz Messengers, Donald Byrd, Freddie Hubbard, Woody Shaw and the Duke Ellington Orchestra. (Photo by Les Hinton)
Margaret O'Dwyer, a Philadelphia resident at the concert, said she was happy to see Temple hosting a free event for the community.
"I loved seeing the Temple faculty perform and all the Temple students who were out to show their support and get to hear a world-class musician," O'Dwyer said. "Having the event open to the community so the community could participate was beautiful all around."
"I'm glad Temple is reaching out to the community and I hope to see Temple do more in local schools and neighborhoods, especially with their music," she added.
Leo Gadson, a longtime Philadelphia resident who runs the Producers Guild of America, an organization that produces community jazz shows, said he absolutely loved the concert.
"Kenny Garrett was excellent and he didn't disappoint me or any of my friends who were with me. When he got to the piano he was phenomenal," Gadson said. "I didn't know he played the piano too. "
"Both groups were great, it was like passing the torch in terms of age," added Gadson. "Music heals, it has a universal place for everyone and the concert brought us together as a whole."
Graduate Students Dylan Band, BYR '20John Meko, BYR '20and Max Cudworth also performed alongside Garrett on a closing song.
Band, a saxophonist, said he admires Garrett as a musician and enjoys performing for the community.
"It was amazing. Kenny Garrett is one of my heroes musically and saxophone-wise, so playing with him and seeing him live was amazing," Band said. "He sounded at the top of his game. feed on the energy that the group gave.
This event was made possible by Boyer College of Music and Dance, Temple University Office of Community Affairs and WRTI.