Julia Donaldson and Axel Scheffler's smartest giant delights Newbury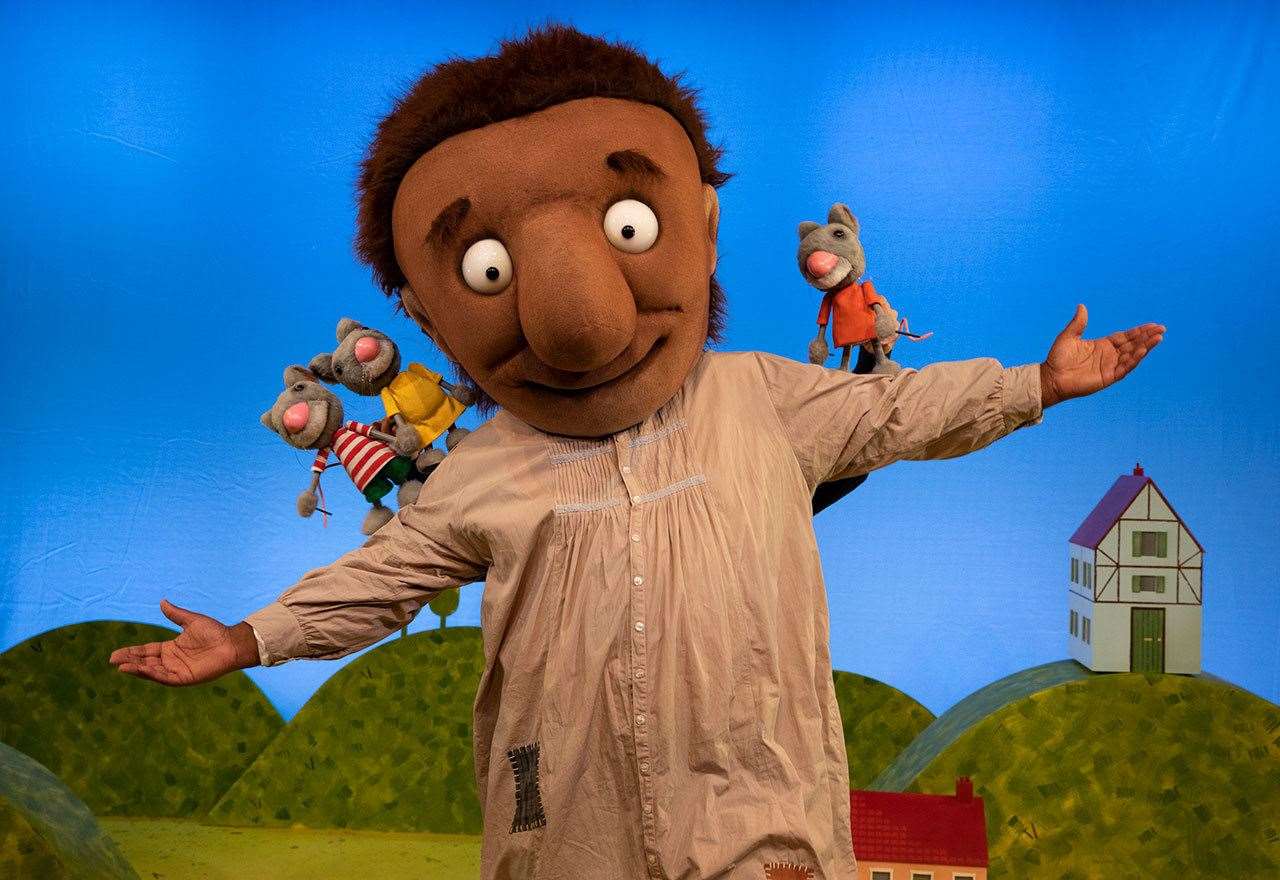 The Smartest Giant in Town at The Corn Exchange from Friday, February 25 through Sunday, February 27. Review by ROBIN STRAPP
The Firelight and Little Angel Theater production of Julia Donaldson and Axel Scheffler's The Smartest Giant in Town was a delicious mid-term family treat for toddlers.
This heartwarming tale of friendship and helping others is told in a puppet-filled adventure, with music by Barb Jungr (a former favorite Greenham cabaret act).
George (Duane Gooden) is a hulking, poor, scruffy giant who really wants to be smart. When he discovers a boutique selling extra-size clothes, he decides to treat himself to a new outfit, including a new shirt, tie, pants and shoes – and he looks very dapper.
Nix Wort and Mark Asaias were shopkeepers, as well as skilled puppeteers who brought to life the various animal puppets created by Judith Hope, whom George encounters on his journey. The young people loved them.
First there was the cold-necked giraffe who George decides to give his tie to. It magically transforms into a scarf and the giraffe is extremely grateful.
A sailor's goat and his boat were stranded when he lost his sail, but George's shirt provided a replacement, as he awkwardly drops it to the ground and it changes to a more suitable size.
There's a lot of repetition in this process, which reinforces the age-appropriate style of the story and stayed true to the book.
The mouse's house catches fire dramatically, but George's shoe provides alternative accommodation. The cunning fox gets a new sleeping bag thanks to George's sock, and the ugly dirty dog ​​manages to escape the muddy hills with a bridge created from the giant's belt.
The enthralled youngsters were captivated by every act of kindness and expertly executed solutions.
Poor George was left cold, having given away all his new clothes, and despondent returned to the store to find his old clothes.
There was a wonderful warmth and a sense of delight as each animal received a special song.
Samantha Lane's clear direction and Kate Bunce's imaginative design enhanced this joyous tale and the audience enthusiastically joined in the catchy final song. A charming accomplishment.
---
---