Homegrown Houston: Tasting Tour with Chefs Evelyn García and Henry Lu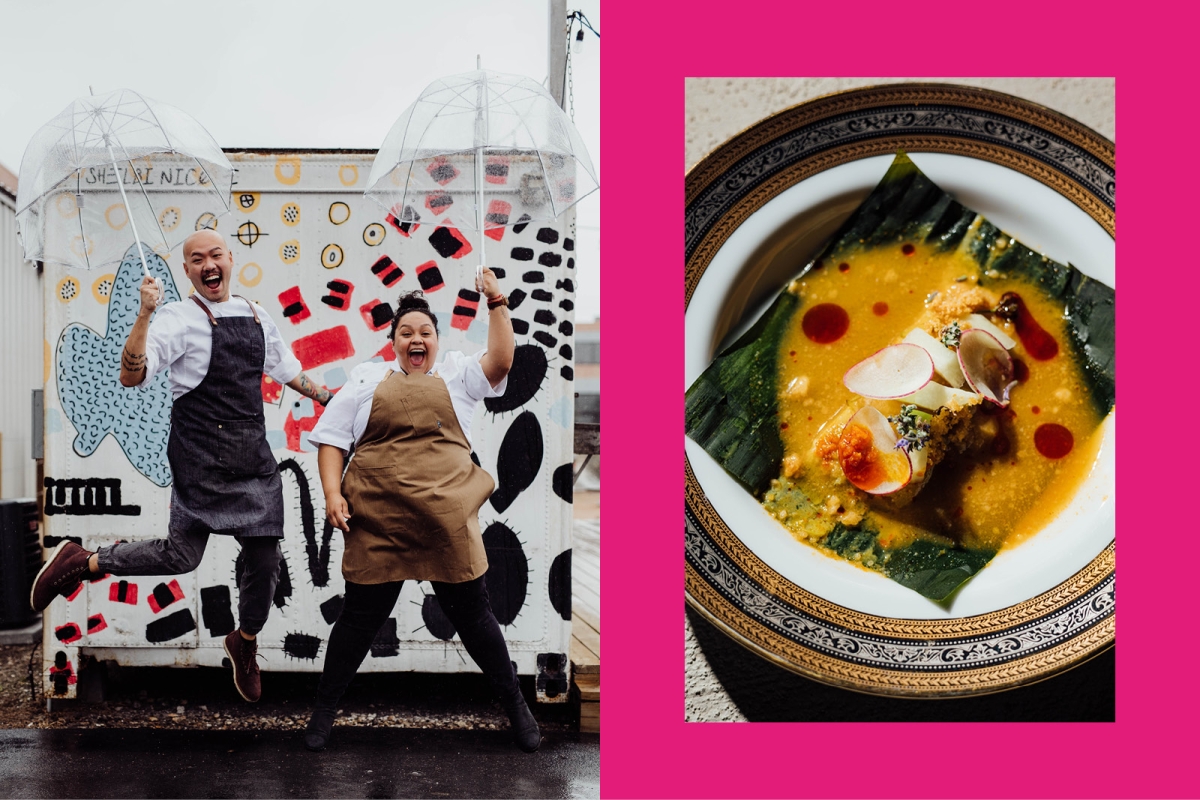 Program
Saturday, August 27, 2022
7 p.m. Program
---
Health and security
Celebrate the incredible cuisines of Houston on this special evening with Evelyn Garcia and Henry Lu by KIN HTX!
Chefs Evelyn and Henry have curated a selection of notable and innovative chefs who each present a dish that showcases their stories as chefs and, in turn, reflects the diversity and ingenuity of Houston's culinary scene. In addition to Houston's tasting tour – featuring Thai cuisine, West African dishes, Filipino-inspired desserts and more – the unforgettable evening also includes performances and access to the project Artists on site Series 3.
Tickets include a dish from each chef/vendor, drinks and cultural activities including live entertainment and entry to Artists on site.
Featured foods and beverages by
Asahi beer
burger chan
Chefs Diane and Willet Feng
Portion: the GMA Slider (sweet sourdough bun with crushed patty, cheddar cheese, sautéed onions, sambal mayo and kimchi relish)*
Butter Baby Bakery
Chef Karen DeGuzman
Portion: Halo Halo Cake Shooters, Mini Ube Cream Puffs*
ChòpnBlọk
Chief Op Amosu
Portion: Golden Blok Pairing (Smoked Jollof Jambalaya, Cooked Sweet Plantains, Homeland Coconut Curry)
Click on Virtual Dining Room
Chief Gabriel Medina
Portion: Monggo Guisado (Filipino rice and beans)*
Desert Gate Distillery
dumpling house
Chefs Ellane Won, Ashley Lai and Amiley Lai
Portion: Szechuan Spicy Noodles with Mushroom Soy Topping*
EMA HTX
Chefs Stephanie Velasquez and Nicholas Vera
Portion: Zacahuil Tamal (tamal wrapped in banana leaves served with salsa roja and pork belly)
KIN-HTX
Chefs Evelyn García and Henry Lu
Portion: Salmon ceviche with Leche de Tigre with lemongrass, chilli oil and crispy rice
Cafeteria
Chief Vanarin Kuch
Portion: Goat cheese cake with blueberry compote, yuzu kosho mousse and meringue*
From the street to the kitchen
Chief Benchawan Jabthong Painter
Portion: Chef Benchawan's famous green curry beef brisket
* indicates that a vegetarian or vegan option will be available
---
About KIN HTX
KIN is a concept inspired by Southeast Asia by chefs Evelyn García and Henry Lu. KIN consists of a range of condiments and products, a catering and event production service, and new restaurant opening soon in Houston!
---
About Evelyne Garcia
Originally from Houston, born to Mexican and Salvadoran parents, chef Evelyn Garcia is the leader and co-owner of Kin HTX. A graduate of the Culinary Institute of America, Evelyn has cooked across New York City with stints at Jean George's Spice Market under Chef Anthony Ricco, Masak with Chef Larry Reutens, and Kin Shop with Harold Dieterle. After 10 years in New York honing her skills, passion and drive for Southeast Asian cuisine and culture, she decided to return to her hometown of Houston and open Kin HTX, a concept inspired by Southeast Asia. From pop-ups and chef residences to a restaurant and product line, Kin HTX continues to evolve and showcase Evelyn's passion for Southeast Asian flavors and local agriculture. . Evelyn was recently seen in the final on Grand Chief: Houston.
The Asia Society Texas performing arts and culture programs are presented by Syamal and Susmita Poddar. Major support comes from Nancy C. Allen, Chinhui Juhn and Eddie Allen, City of Houston through the Houston Arts Alliance, Houston Endowment and The Brown Foundation Inc. Generous funding also provided by AARP, The Anchorage Foundation of Texas , The Clayton Fund, The Cullen Trust for the Performing Arts and The Wortham Foundation. Additional support provided by the Texas Commission on the Arts, National Endowment for the Arts, United Airlines, and through contributions from the Friends of Asia Society, a dedicated group of individuals and organizations committed to providing exceptional programming and exhibitions at Asia Society Texas.
Performing Arts and Culture Presenting Sponsors
Syamal and Susmita Poddar
Official Airline Sponsor
Program Sponsors
Presenting partner
Food and Beverage Sponsors
---
About Asia Society Texas
Asia Society Texas believes in the strength and beauty of diversity of perspectives and people. As an educational institution, we advance cultural exchange by celebrating Asia's vibrant diversity, inspiring empathy, and fostering a deeper understanding of our interconnected world. Covering the fields of arts, business, culture, education and politics, our programming is rooted in the educational and cultural development of our community – trusting in the power of art, dialogue and ideas to fight prejudice and build a more inclusive society.
---