Harrison County Hosts Fall Meeting of the VI of Northeast Texas Area Clerks | New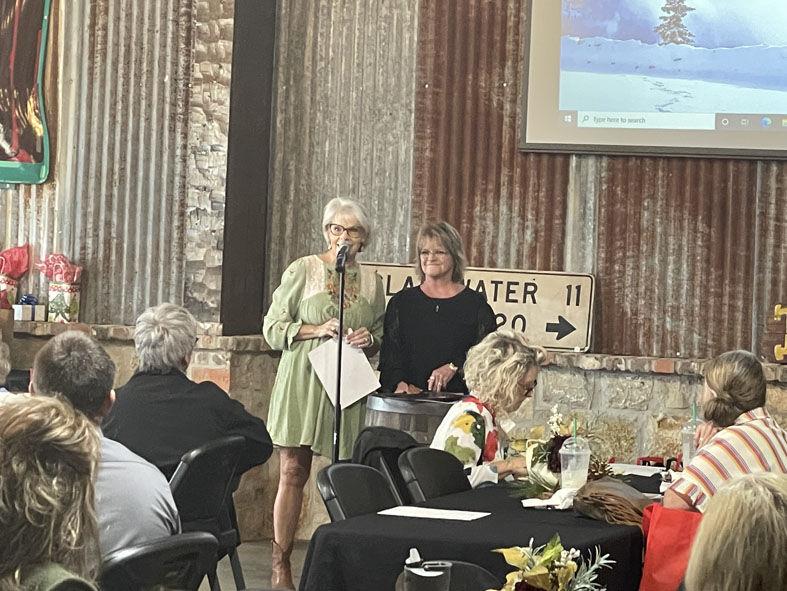 Harrison County officials welcomed a crowd of clerks to Marshall on Friday, as the county hosted the fall meeting of the Northeast Texas Region VI County and District Clerks Association of Texas.
District Clerk Sherry Griffis and County Clerk Liz James chaired the conference, which was attended by representatives from about 40 counties.
"It's a lot of fun," Griffis said of the host county.
"It's really gratifying to know that people in your area and all of your region are in your city and in your county," she added. " That's what it's about.
"They can find out a bit more about us, where we live and where you live," she said of the opportunity to serve as the host county. "It's kinda helpful because we're all different sizes; and it helps when we can all get together and we all see each other a little bit and learn a little bit of history about different areas. We are learning a bit about our community in and around our regions. So it's a lot of fun.
James echoed her sentiments, sharing how enjoyable it was to plan the event. The Northeastern Texas region includes the following counties: Harrison, Panola, Marion, Gregg, Anderson, Angelina, Bowie, Camp, Cass, Cherokee, Delta, Fannin, Franklin, Freestone, Henderson, Hopkins, Houston, Hunt, Kaufman , Lamar, Leon, Limestone, Madison, Morris, Nacogdoches, Navarro, Rains, Red River, Rusk, Sabine, San Augustine, Shelby, Smith, Titus, Upshur, Van Zandt and Wood.
The conference kicked off with a fried fish Thursday night, hosted at Griffis' house in Caddo Lake. The event continued on Friday morning with a continental breakfast, business meeting and shopping at the Bear Creek General Store and Conference Center site, located in what is affectionately known as the "Community". Bear Bottom "in the western part of the county.
At Friday's event, guests all received a warm welcome from elected officials including 71st District Court Judge Brad Morin, County Court Judge Joe Black, County Judge Chad Sims and Pct . 4 County Commissioner Jay Ebarb, representing the Bear Creek area.
As Judge Morin greeted everyone on occasion, he praised Griffis, who serves his court, and James, who serves Judge Black's court, for doing their jobs effectively.
"They are our problem solvers," said Judge Morin.
"We have been blessed with the staff helping us and I want to thank you all. We couldn't do it without them on a daily basis, "said Black.
Griffis has worked in the county since 1992 and James has worked in the clerk's office for 26 years, including two and a half years as the county clerk.
The county court judge noted that due to the clerks' diligence, he and Judge Morin were able to move cases forward along the roll, attempting more trials in Harrison County than in any neighboring county.
"I think we've tried 18 or 20 trials, so far this year compared to last year," said Black, comparing their progress after the pandemic stopped. "We have moved forward. It is a difficult task. (However) these two put their staff together. We closed the floor. We closed the hallway so people could come in with masks and keep them separate. You bring in 150 people, wearing masks and keeping them six feet apart, that's no fun either. I promise you. They are not happy. They are not pleasant, but between these two ladies, they succeeded and it went very well.
In his welcome to the crowd, Justice Sims also congratulated the two Host Clerks and thanked all the clerks for the work they do in their counties.
"I want to thank you all for the work you do. Often our clerks are overlooked for the work they do. Thank goodness for the work you all do, "the county judge said. "We are grateful for that."
Justice Sims encouraged attendees not only to take the opportunity to gain more knowledge at the conference, but also to use it as a networking opportunity to build relationships.
"I've always loved lectures like this," Sims said. "You learn something new, what someone else is doing, how it can improve your office, so I definitely want you to do that; but more than that, let me encourage you, it's all about relationships.
"It's easy to focus on your business and what you're doing all the time," he said. "We're not supposed to be isolated at all. We are very social people, so take advantage of this time to form good friendships and relationships. These are truly meaningful and lasting. I just want to encourage this.
The conference was also attended by the directors of the region and the president of the association, Lisa Johnson. Johnson noted the association's theme for the year, "A Community in Service".
"The reason we do this work is because we care about the community we live in," Johnson said. "People in our community, we want to improve their lives. "
"One of the things this association of clerks does well is educate our clerks," she added. "As the judges said, our clerks know what they're doing."
The group also received a special presentation from Becky Palmer, executive director of the Harrison County Historical Museum, as she spoke about the historic legacy of Rosborough Springs and Hynson Springs, two major resorts that attracted early settlers. Rosborough Springs, located about eight miles south of Marshall, has become one of the county's most popular mineral springs. Hynson Springs, located six miles west of Marshall, off FM 449, was one of the most beautiful resorts in the south.
"Liz asked me to talk about Harrison County's mineral springs and history," Palmer said. "When you look here at the beautiful lakes and ponds and streams that we have in East Texas, you will quickly realize that we have a lot of springs and a lot of water, different from some of your counties. "
Palmer invited the public to visit the county's five museums while they were in town. She noted that the County Museum has three locations, which includes a permanent exhibit located at the historic 1901 courthouse and the cutting-edge Service and Sacrifice: Harrison County at War permanent exhibit located in the 1700 Veterans Museum. square feet inside Memorial City Hall Performance Center.
Other downtown museums include the historic Texas & Pacific Depot, the Michelson Museum of Art, and the Starr Family Home State Historic Site.
"I hope you'll come downtown to visit while you're here," Palmer said.
Other conference highlights included gift card giveaways and door prizes from various vendors including Kofile, iDocket, Scott-Merriman, Deborah's Boutique and Net Data. Other sponsors included Sandy Futrell and the Grand Marshall Chamber of Commerce.