Find out who will play the 2022 Saltonstall Park Concert Series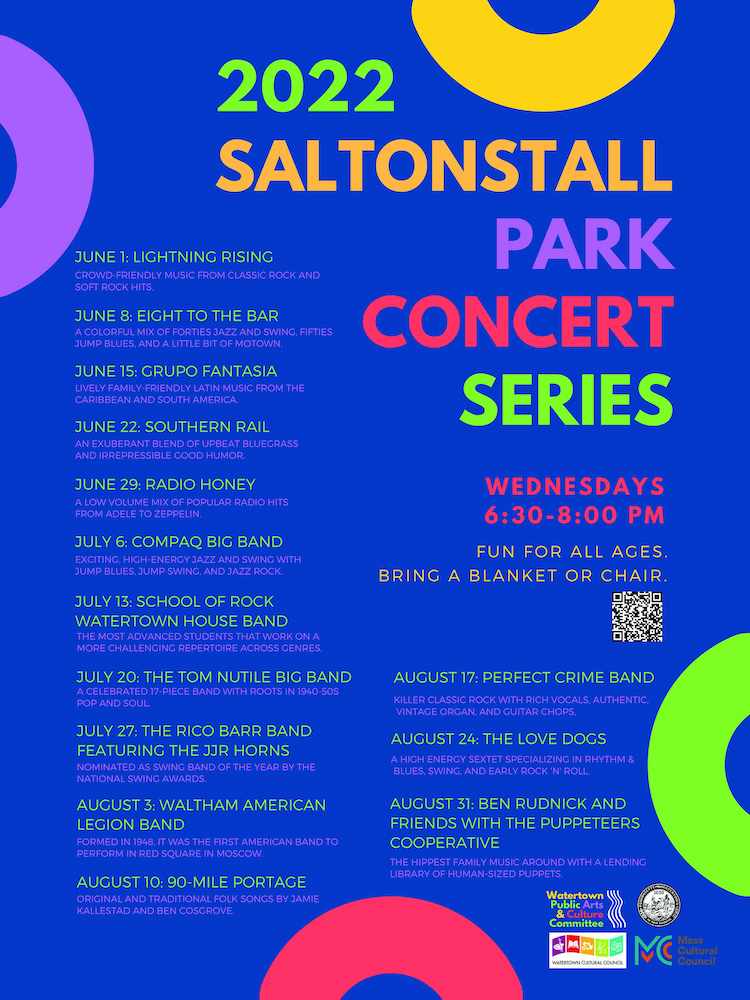 The 2022 Watertown Free Summer Concert Series features 14 bands beginning June 1 and running through the end of August.
The City of Watertown provided the following information about the concert series:
Reserve the dates of Saltonstall Park Concert Series 2022.
The Concert Series is a series of free performances at Saltonstall Park, located at 149 Main Street in Watertown, from 6:30 p.m. to 8 p.m. Spectators are encouraged to bring chairs and blankets.
June 1: Perfect Crime Band
Killer Classic Rock with rich, layered vocals, authentic vintage organ, guitar chops and a selection of the best music from the 60s, 70s, 80s and beyond.
June 8: Eight at the helm
Their material, like their extravagant wardrobes and on-stage choreography, is a colorful mix of 40s jazz and swing, 50s jump blues, a bit of Motown and their own swing-influenced tunes. . With their female vocals, saxophone (their saxophonist, Collin Tilton, is Van Morrison's original saxophonist/flutist who appears on Morrison's quadruple-platinum "Moondance" album), guitar, bass, keyboards and drums, this unique sextet contains a a musical and visual punch not seen in New England since the band's inception in 1975. Since then, they have released 12 CDs and thrilled audiences from Europe to the Caribbean.
June 15: Grupo Fantasia
Lively, family-friendly Latin music from the Caribbean and South America.
June 22: Southern Rail
Southern Rail rolls through Saltonstall Park with its exuberant mix of upbeat bluegrass and irrepressible good humor. It promises to be a delightful concert, with lush harmonies, plus bubbly banjo, guitar, mandolin and bass. Two of the band members (guitarist Jim Muller and bassist Sharon Horovitch were recently inducted into the S New England Bluegrass Hall of Fame. Pack a picnic and bring the family for a memorable summer evening!
June 29: Radio Honey
Radio Honey features female and male vocals while performing "Sweet Sounds from the 70's thru Today". A low-volume mix of popular radio hits from Adele to Zeppelin (pop, classic rock, alternative, modern rock and Top 40).
July 6: Compaq Big Band
Exciting and energetic jazz and swing with jump blues, jump swing and jazz-rock.
July 13: School of Rock Watertown House Band
School of Rock Watertown House Band introduces the most advanced students in an audition-based program that works on more challenging repertoire in all genres, from rock & roll to Motown to pop music. House Band performs professional concerts throughout the Boston area.
July 20: The Tom Nutile Big Band
The 17-piece Tom Nutile Big Band has its roots in the swing music of Benny Goodman, Duke Ellington, Count Basie and Glenn Miller, but in recent years we have expanded our offering to include more contemporary sounds, songs by Frank Sinatra , Ella Fitzgerald and Bobby Darin, from 1950s and 1960s pop and soul (the Drifters, the Temptations, Wilson Pickett and Van Morrison) to the work of contemporary performers (Michael Bublé, Diana Krall, Pharrell). The result is a dynamic and highly professional ensemble that perfectly creates great music of all genres, which makes audiences of all ages smile, cheer and, when we play parties and dances, dance happily.
July 27: The Rico Barr Band with the JJR Horns
Nominated as Swing Group of the Year by the National Swing Awards.
August 3: Waltham American Legion Band
The Waltham American Legion Band was formed in 1948 and has performed around the world. They were the first American band to perform in Moscow's Red Square, where they performed "God Bless America." The marching band is made up of approximately 50 volunteers, veterans and civilians. The group performs in various configurations: a military band, a wagon band, a marching band, and in smaller ensembles.
August 10: 90 mile portage
Jamie Kallestad and Ben Cosgrove started performing as 90-Mile Portage to take a break from their daily work: Jamie is a singer-songwriter (jamiekallestad.com) and Ben is a touring pianist/composer national (bencosgrove.com). The collaboration originated in 2011 with a handful of check-in experiments conducted via email. The duo has since released an EP of original, traditional folk songs and toured across New England and the Midwest.
August 17: Rise of lightning
Lightning Rising performs a variety of upbeat music from classic rock and soft rock hits. The band includes Watertown-based artists Dawn and David Scaltreto on keyboards and bass, neighbor John Copeland on guitar and drummer David Donnelly. All four are singers and provide sophisticated backing vocals on all songs. Last year they were a big hit with the local crowd!
August 24: Dogs of love
The Love Dogs are an energetic sextet specializing in original, classic, New Orleans-style Rhythm & Blues, Swing and Rock 'n' Roll. We put on an energetic family show with a 6 piece band providing upbeat humorous songs that are great for dancing and singing. One of the highlights of our show is leading a crowd procession around the park with a parade of New Orleans marching bands. Our performances are family friendly and we put smiles on all faces, young and old.
August 31: Ben Rudnick and his friends with the puppeteers' cooperative
Ben Rudnick & Friends play the hottest family music around. With countless accolades to their credit, including SEVEN Parent's Choice Awards, their adventurous and energetic mix of upbeat, upbeat acoustic music is guaranteed to entertain the whole family. Mixing musical styles from country to bluegrass, rock to second-line New Orleans, their original songs and fun takes on familiar tunes make you sing, dance, and make you happy.
The Puppeteers' Cooperative provides a human-sized puppet lending library in which adults and children can dance and play, and organize small parades. They are especially fun with music.
Visit the Saltonstall Park Concert Series 2022 webpage.
Special thanks to the Watertown Cultural Council and the Massachusetts Cultural Council for their support.