BGSU puppet production takes audiences into the fantastical world of Baron Munchausen – BG Independent News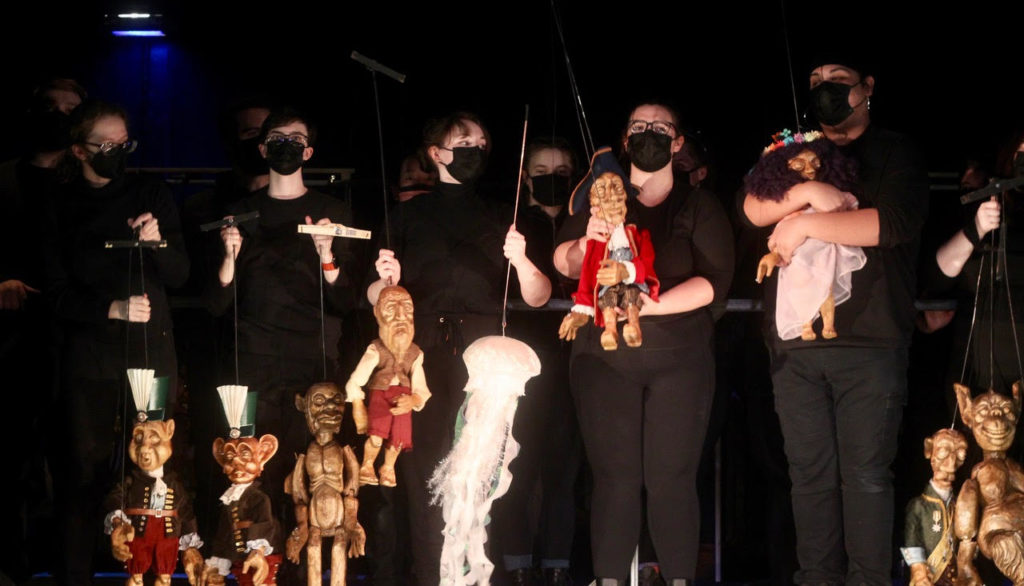 By David Dupont
BG Independent News
Baron Munchausen is a fantastic guy.
He travels from the moon to the underworld, from the freezing mountains to the bottom of the sea. He even longs to go to a university near a swamp in the American Midwest, where he hopes to teach.
He fights battles and tries to settle disputes.
He does all this at the behest of the women he woos – an empress, a tsarina, a goddess.
And he is able to accomplish this in an hour and with conditions attached.
The puppet production, created by Brad Clark, of "The Magnificent Baron Munchausen: His travels, trial and tribulations" will be staged by BGSU's Theater and Film Department from February 17-20 and February 24-26 at 8 p.m. and in February 19-20 and 26 Feb. at 2 p.m. at the Eva Marie Saint Theater on campus. Tickets can be purchased in advance at BGSU.edu or in person one hour before the start of each show at the Wolfe Center for the Arts.
Despite all the wonders the Baron has experienced and the royalty he has encountered, our hero is penniless and reduced to telling his stories to a rowdy, rowdy audience in a tavern. This is where we find him before his flights take him on his first mission.
Not that there's anything fanciful about these tales. Our hero, as he tells us, is absolutely truthful. So if you're so inclined, you could treat this as a documentary.
The tales of Munchausen, a real historical figure, have been told, but not by him, in print, on stage and in film, always subject to elaboration based on the whim of the storyteller.
This production draws on the rich history as radiated by Clark's imagination.
Munchausen (voiced by Alexis Reinbolt Tucker) is a lovable storyteller. Our unfortunate hero finds himself in untenable situations in the most unlikely way, only to escape and find himself in another dead end.
Along the way, he meets Empress Maria Theresa (Hannah Boyle), Catherine the Great (Hailey Wright), and Venus (Fern Torres). Everyone asks him to entrust him with tasks that he takes on willingly. Along the way, he must battle Vulcan (Dannie Ellis), the Moon King (Destiny Lee), and enemy armies.
The empress sends him in search of American riches, but Munchausen's ship sinks.
In the background we have a ballet of sea creatures choreographed by Wright with music provided by Kornfelds' five-piece Il Collegium Barockorchester Baronique – Z. Carpenter, Camryn Eck, James Wang, Kayla Collins and Kylie Felsheim. The band provides the soundscape which is part of an electronic soundscape and a loud provincial circus band with a bit of gamelan in the mix.
Clark's intricately sculpted puppets, inspired by Eastern European traditions, are both magnificent and grotesque. He is assisted in the creation of Munchausen's world by his colleagues Steve Boone, lighting designer, Kelly Mangan and Morgen Tracey, scenic artists, and Seung-A "Liz" Lee, costume designer, modeler and maker, as well as a company of puppeteers. The show is full of finely crafted details and ingenious scenic devices.
Everything, including the pre-show warning against photography and recording and instructions on how to exit in an emergency, gets an archaic twist.
It all serves to envelop the audience in the world of the magnificent baron for an hour, before releasing us into the icy world of a Midwestern college campus, where perhaps Munchausen, at least in his imagination, found a place in the faculty.