2022 Martinsburg High School Alumni Association Annual Banquet | Journal-news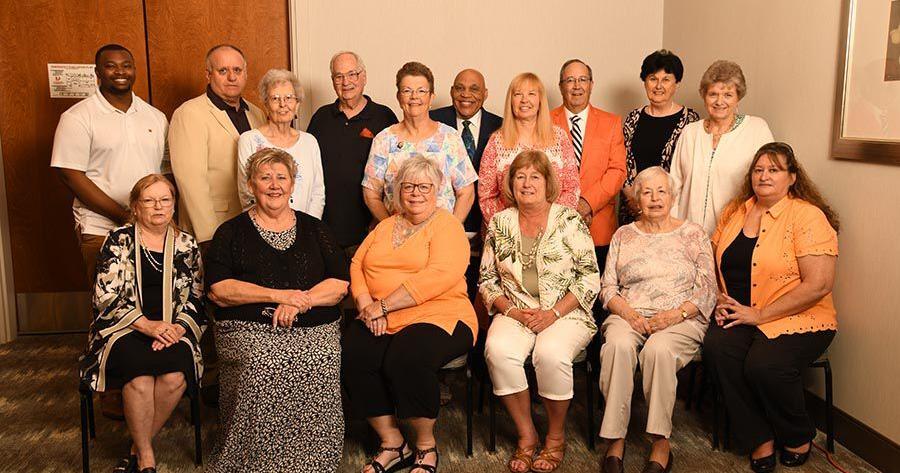 MARTINSBURG — President Cheryl Flagg welcomed 120 alumni to the annual luncheon May 28 at the Holiday Inn in Martinsburg. The Class of 1972 was recognized for celebrating their 50th reunion, and the Class of 2022 was recognized for their recent graduation from Martinsburg High School. Additionally, Flagg recognized the classes of 1942, 1947, 1952, 1957, 1962, 1967, 1972, 1977, 1982, and 1997 for achieving landmark reunions.
Current members of the 2021-2022 Board of Directors were invited to introduce themselves and be recognized. In attendance were Linda Martin, Sarah Frost, Mary Hayward, Dale Hicks, Libby Salmon, Robert Jackson, Larry Cooper, Anita Cooper, Nancy Warrenfeltz, Sylvia Stubbs, Susan Etherington, Bruce Avey, Ginny Reisenweber, Derrinda Morrison and the new Board of Directors member, Treyvon Stephenson.
Flagg thanked Marty Kesecker, former assistant treasurer, for his many years of service to the Council of Elders. Casie Rogers Adams, group director at MHS, spoke on behalf of the school. She opened up about her own graduation in 2009 and shared how happy she was to be back 'home'. She ended her talk by sharing that during her short time as group director, the size of the group has grown from 35 to currently 95 members planned for next year.
Mike Staubs, Class of 1972, offered a prayer before Holiday Inn staff invited guests to the buffet lunch, which consisted of various salads, roast beef, chicken and mashed potatoes with sauce.
During the brief business meeting, Warrenfeltz, secretary, shared copies of the April meeting for members to read. A motion to accept the minutes as presented was moved by Hayward and seconded by Frost, motion carried. The treasurer's report from the April meeting was presented by Warrenfeltz on behalf of Hicks. A motion to accept this report was made by Debbie Ponton Price and seconded by Linda Campbell, motion carried.
Warrenfeltz recognized the following students and the scholarships they received from the Alumni Association: Makayla Smith—MHS Alumni Association Scholarship, Maya Goy-Smolec—Elizabeth Brindle Memorial Scholarship, Desanti Harris—Fred B. Jackson, Jr. Endowment Scholarship, Morgan Ritt—Hattie W. Snyder Memorial Scholarship, Emma-Leah Welch, Jordyn Elizabeth Kelso, Averi Bishop, Michaela Hersom, Samantha Norris, Kendall Holben, and Ihanna Westbrook, all Wm. Nelson Dunn recipients , Jr. Memorial Scholarship, Justin Tyler Petry—John T. Morgan Memorial Scholarship, Sean Cole—John Paul Lynch, Sr. Memorial Scholarship, and Bryson Lewis—James Reynolds Memorial Scholarship. The MHS Alumni Merit Awards were presented to Jerin Adkins and Madison Brinegar. Each student will receive $1,000 to use to further their education.
Hayward read of the many honors given to the outstanding alumnus, noting her active and dedicated involvement in the association, the high school, her community and her family. The Outstanding Alumnus of 2022 was awarded to Board Member Virginia "Ginny" Reisenweber.
Class responses and best wishes to the class of 2022 were given by Vivian Wall Bauer ('42), Thelma Ryan Crawford ('47), Lou Ann Gain Ponton ('52), Hicks ('57), Tripp Smith ('67), Price ('72) and Elaine Butler Bobo ('82).
Along with wishing the Class of 2022 well, many of the responses included wonderful memories of high school days, the changes since graduation, and the many changes to come. Many spoke in remembrance of their deceased classmates. Wishes to the Class of 2022 included reminders that to be successful in life, they needed three things: a triangle, a spine and a fun bone.
One class encouraged the current class to live by these three words: serenity, courage and wisdom – "May God grant you the serenity to accept the things you cannot change, the courage to change the things you can and wisdom to know the difference". Another class offered this reflection: Be nice – you have the power to make others feel good; don't be a victim of comparison, you live in the age of social media where everything is visible; you are the person you "like, share, retweet and follow"; take care of your mind and body – one struggles to survive without the other; and finally, what contribution will you make to the community in which you live.
To honor both Hicks and Alex Stasnopolis, both former MHS teachers, the Class of 1972 donated a check for $1,000 to be allocated directly to the MHS Social Studies Department to enhance the ability of secondary school student to become firmly acquainted with "participatory citizenship".
Historian Frost shared a reading titled "Getting on the Train of Life," while Class of 2022 Fellow Jordyn Kelso lit the candle in memory of all past members who passed away. Additionally, Frost remembered Edie Miller Powell, a 1946 MHS graduate, who served on the board for many years and worked diligently to maintain the database of graduates and their addresses. . She also shared that longtime MHS secretary Debbie Myers and former athletic director Steve Shirley passed away in recent days.
Derrinda Morrison, chair of the nominating committee, shared the list of leaders for the upcoming 2022-2023 year: Susan Etherington ('70), chair; Hayward ('69), 1st vice president; Warrenfeltz ('70), secretary; Joyleen Lam ('70), assistant secretary; Hicks ('57), treasurer; Bruce Avey ('72), assistant treasurer; Frost ('84), historian; Kathy Morgan ('77), assistant historian; Robert Jackson ('62), Stubbs ('64), Linda Martin ('74) and Stephenson, three-year directors; Morrison ('66), Tony Lewis ('96), Glenda Miller ('80) and Reisenweber ('59), two-year directors; and Anita Cooper ('79), Larry Cooper ('74), Libby Salmon ('58) and Anthony Hess ('86) one-year directors.
Flagg closed the meeting by thanking the board members for their efforts, thanking the members for their continued support, and thanking her partner, Fred, for "supporting her" throughout her time on the board. Flagg then passed the gavel to Etherington, the association's new president. Mike Spaur of the Class of 1972 offered the farewell prayer.